This iphone has been lost bypass. How to Bypass iCloud Activation Lock 2019-06-23
This iphone has been lost bypass
Rating: 9,3/10

1850

reviews
iPhone Lost Mode Bypass
Then I found that the iPhone is disabled so then, I updated the software, turned the phone on, I selected the language and country and connected to WiFi and after a few seconds, it asked for email and password. Hi, I bought an iPhone 6 on a local site and it was all on and I had no iCloud issues. Once the device gets lost or stolen, the owner can enable the Find My iPhone feature, which then sets a lock on the device. I suggest trying to get your money back from that seller. Whilst you hold the iPhone of a complete unknown entity and wish to return the same to its rightful owner and require appropriate details about the owner, this can be achieved in a brief time period by applying the following method.
Next
Forgot iPhone Passcode? How to Reset Passcode for iPhone, iPad, iPod
I still have a question I would appreciate if you can help me. And it also says that it requires the password to get onto it, when I go to reset it says that I have to be active on the phone or something like that, what can I do to unlock it!?!? But, unfortunately, the Find My iPhone feature has already been enabled on it. Zone These are all I have to share with you at this moment. But my question is: Can I use that iPhone? If this is not an option, then the iCloud Status of your iPhone will determine your next steps. Step 2: Select iPhone model and the carrier Select the relevant iPhone model and carrier from a drop-down list. If you cannot visit Find My iPhone on iCloud's web page, that means, you do not set up iCloud on your iPhone. Then the unlock screen and languages option page will appear repeatedly.
Next
iCloud Locked: How to bypass iCloud Activation on iPhone
If your lost iPhone is offline, the passcode lock and tracking will take effect the next time it is online. Anyway, you got everything right! Your only option is to get in touch with the original owners, and ask them to remove the iCloud Lock and the blacklist status! Sponsored Links Source: So far we have focused on removing or bypassing Activation Lock on iPhone and iPad. I wanna use this iPhone 6 badly. If a passcode was entered into iCloud when putting the device into Lost Mode, use that passcode to unlock the device. You can send from your icloud online account dashboard to iPhone, like in this picture.
Next
Icloud Unlock LOST MODE LOST AND ERASED CLEAN MODE
From what I understand the iPhone seller was not the original owner most probably he is a thief Anyway, you cannot hack the iCloud Activation Lock! Even if your second-hand iPhone looks quite fine, you still need to take the chance and check to know if the newly purchased device is not locked to icloud. Your iPhone is iCloud Locked and the only way to bypass the iCloud Lock is to use Apple Support and this iCloud Unlock Tutorial. In order to disable iCloud Activation Lock, I just have to turn off backup under it right?? How to bypass iPhone lost mode If you just buy a second-hand iPhone from eBay or Amazon, but the seller is not good enough to help you turn off the Lost Mode for the iPhone, then you have to brainstorm to find the ways to bypass Lost Mode to restore the iPhone. If you use a service which will remove the Blacklist status from your iPhone, then you will be able to normally use this device Currently there is not such a service. Use the following link, and answer those 4 questions. Then, you can go to iPhoneUnlock. Generally press the power button and home button in the meantime.
Next
iPhone has been locked by My iP…
What you need is downloading and installing and follow steps below to perform an iPhone Lost Mode restore. Always check the Next Tether Activation Policy, this is the value that says if your iPhone is locked or unlock. Keep sliding the Unlock screen, and tap the languages option, until you reach the home screen of your device. Unlock it and then Sell it After your you can sell it to foreigners at a lowered rate. I have made a police complain against stranger but without results.
Next
iPhone has been locked by My iP…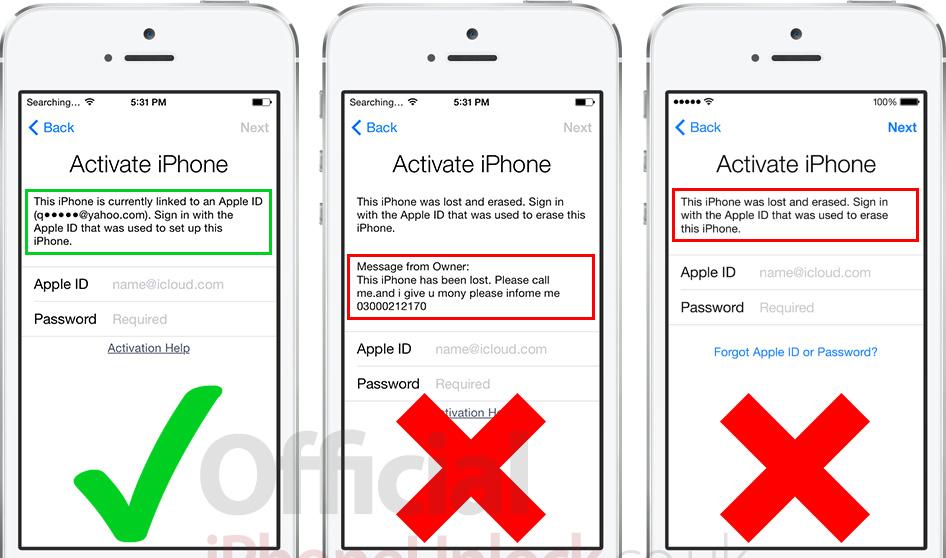 Now I don't know how to figure out this problem. On the off chance that you purchased your iPhone X from a companion, ring them and request their iCloud account. Is there a way I can use this iPhone? Is there any other way to use this iPhone in the future? The post introduces you with one best way to help you get back the deleted files from iPhone. When I checked through both apple id account, this iPhone is still listed on my devices. First, you will need to learn in which network it is locked and which network blacklisted it.
Next
iCloud Locked: How to bypass iCloud Activation on iPhone
Why you were scammed 2. My iPhone 6 was stolen recently. In both cases just go to iPhoneUnlock. Zone and ask if your iPhone 6s can be unblacklisted. In the activation window, press the home button and then select Wi-Fi settings and then tap on the 'I' bonded by a circle. This will restart the phone. So, with the help of a third-party , we can easily lock iPhone locked-screen with 1 click, no tech knowledge required.
Next
How to Bypass iCloud Activation Lock in iOS 12, 11 or Earlier on iPhone/iPad
I purchased it from Apple retailer itself. There are much more such iCloud Bypass tools as Doulci iCloud Unlocking Tool, iCloud Easy Unlock Tool, iCouldin, etc. Likewise, I will likewise draw out into the open a stunning tool that plays out the unlocking administration for iCloud in a flawlessly magnificent manner. I suggest to do that first, so you will learn how much money it will take you first to fix the screen, and then I will be able to inform you how much price it will take you to unlock it If it requires unlocking of course! In case, you are using iCloud and Find My iPhone on the device, head over to. Here is an easier and more efficient method to help you unlock a locked iPhone by repairing operating system with.
Next
How to Bypass iCloud Activation Lock
You will need first remove the carrier blacklist. For all Apple gadgets, this tool has demonstrated more than splendid. I would recommend you to first unlock the Activation Lock by yourself. Hence, you can see, the methods above do not necessarily guarantee that you will able to use your device normally. Blacklisted iPhones can be unlocked, but the blacklist status will not be removed.
Next
How To Bypass iCloud Activation Lock iPhone X Running iOS 11.2.5 To iOS 11.3/11.3.1/11.3.2
Resulting in me being shut off again. No luck, the guy is no answering i guess no longer interested in his lost phone nor in the data he might have in the phone. To ensure that not a single one of our visitors will get scammed and to maximize the chances of iPhone Unlocking. And Believe in good samaritan who will replay to the screen message from icloud and give the iphone back. I would not purchase anything online using a card, i do not trust that kind of transactions, here basically everyone is using cash even when doing online shopping they payment will be completed when the ordered goods arrives at your door so you;d pay to the parcel company who will reimburse the online shop or the private owner you ordered from. I was hoping he might still need any data from his lost phone in exchange of the unlocking code and removal of the imei from blacklist and finally removal from his icloud so i can register on a newly created icloud account.
Next