Crack ntlm hash john. password cracking 2019-06-10
Crack ntlm hash john
Rating: 9,5/10

1811

reviews
password cracking

We have been building our hash database since August 2007. This brings up the password reuse problem. In my opinion though, 15 characters with no complexity requirements is decent enough. To read more, check out the. Firstly, it is case insensitive, with all letters being converted to uppercase, which greatly reduces the possible keyspace. The hash values are indexed so that it is possible to quickly search the database for a given hash.
Next
Cracking linux password with john the ripper
Now a days hashes are more easily crackable using free rainbow tables available online. Note that running this mode on many password files simultaneously may sometimes get more passwords cracked than it would if you ran it on the individual password files separately. All the same applies to wordlist mode rules as well. I also tried a couple of the Responder hashes shown in some tutorial articles , and I am able to load those into hashcat using -m 5600. Mining cryptocurrency is a very similar process to cracking passwords, and both require some serious hardware. I won't go into Rainbow Tables in detail here, but essentially they allow precomputation of password hashes to greatly speed up the cracking process.
Next
The 'Cracken': The Evolution of Password Cracking

All previous commands with targeted wordlist Username Wordlist create a wordlist using all of the usernames gathered All previous commands with username wordlist Previously Cracked Passwords Wordlist create a wordlist using all of the cracked passwords All previous hybrid and mangling commands with cracked passwords wordlist Rainbow Tables — I like to use a combination of the above examples and rainbow tables. Provide details and share your research! The hash lengths are 128 bits and work for a local account and Domain account. In fact, it is recommended that you do not truncate candidate passwords in your wordlist file since the rest of the characters beyond the length limit of your target hash type are likely still needed and make a difference if you enable word mangling rules. However, you can modify the config file to alter the way the mangling is done. Author: Aarti Singh is a Researcher and Technical Writer at Hacking Articles an Information Security Consultant Social Media Lover and Gadgets. You do not have to leave John running on a pseudo- terminal.
Next
CrackStation
John also offers a brute force mode. I've not used it a huge amount, and some of the syntax is awkward especially the hash types , so I'm not going to go into detailed usage here, but there are plenty of guides you can find online. I am not going to explain this process as it has been demonstrated multiple times , , and. Check other documentation files for information on customizing the modes. See for detailed description of each mode.
Next
Cracking password in Kali Linux using John the Ripper
Using masks like the ones detailed below it is possible to do some targeted brute forcing against passwords in these types of formats. John the Ripper is a free password cracking software tool. The size word list you need depends on your needs. The wordlist should not contain duplicate lines. In this type of attack, the program goes through all the possible plaintexts, hashing each one and then comparing it to the input hash. Or first create a new user with a simple password. Changes in supported hashes or hash formats since then may not be reflected on this page.
Next
buildingbridges.aurecongroup.com: Password cracking: Using John The Ripper (JTR) to detect password case (LM to NTLM)
Crackstation's lookup tables were created by extracting every word from the Wikipedia databases and adding with every password list we could find. Or to check from another terminal you can run john --status. I thought it might be helpful to compile a cheat sheet to reduce the amount of time I spend grepping and googling. You can find the actual implementation of such a cracking mode with lots of comments in the default configuration file supplied with John. Do you want to be financially stable? First, you need to get a copy of your password file. Cracking process with John the Ripper At this point we just need a dictionary file and get on with cracking. This is not always a good idea, though, since lots of people do not check their e-mail or ignore such messages, and the messages can be a hint for crackers.
Next
CrackStation
Is it possible that you're using an older version of Responder, as noted in? What modes should I use? The passwords could be all uppercase, all lowercase, or a mixture and finding the case of the passwords can be important. If it were not there then john would have failed. Usage Cracking passwords with Cain is fairly straightforward. There are a lot of command line options and further options in the configuration file. As the victim will open msf. We store the files in folder dump.
Next
Cracking linux password with john the ripper
So Windows hashes are more than 10,000 times weaker than Linux hashes. On ubuntu it can be installed from synaptic package manager. Now we need to crack the hashes to get the clear-text passwords. You can define an external cracking mode for use with John. Just go to one of the sites, submit the hash and if the hash is made of a common word, then the site would show the word almost instantly.
Next
Cracking linux password with john the ripper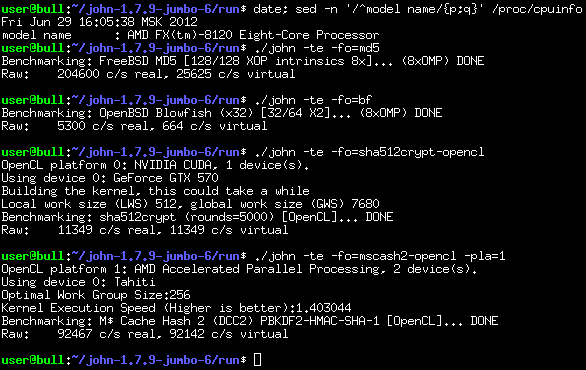 The wordlist will be used to crack the password. I ran Responder in a test network and obtained hashes from a Windows machine. More the passwords to try, more the time required. With regards to pentesting one might ask why it is still necessary to crack passwords at all. Their contest files are still posted on their site and it offers a great sample set of hashes to begin with.
Next
Password Cracking: Lesson 2: Using Kali, bkhive, samdump2, and John to crack the SAM Database
In other words, we are not cracking your hash in realtime - we're just caching the hard work of many cracking enthusiasts over the years. Western Union Transfer all over the world. Two-factor authentication is another option. Please refer to for more information on these modes. Then run: mailer mypasswd Configuration file. Once downloaded, extract it with the following linux command: tar zxvf john-1.
Next